When old equipment's fail, they do fail in waves, depending on the failure modes induced by the original design. Last week when I turned on a TDS 784A in my inventory check, something smelled bad and the display was garbled (it has displays, but straight lines turned into wiggles).
I already replaced the caps for the processor board, keyboard and RS-232/Parallel Port module preventatively and the unit used to work fine. So it boils down to either the power module or the CRT driver.
Despite it's unlikely to be the power module (didn't feel any fan speed changes, display brightness changes, or hiccups in power), I used my nose to make sure there's no burnt electrolyte smell from the power module. Indeed there wasn't.
Sniffing can be a very valuable tool to repairs. The smell came from only one narrow area of the board so I limited it to 3 capacitors next to each other: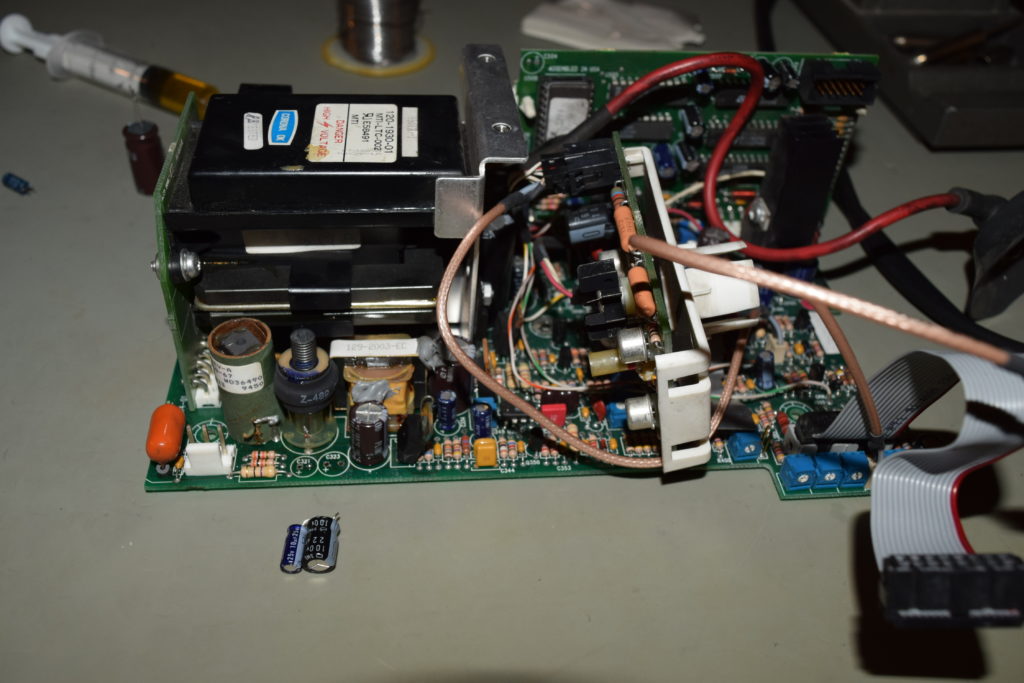 I took them out and cleaned the PCB and noticed that the wipes has a bit of green and black stuff on it. That's how I can tell a capacitor just peed all over itself. The culprit is C321 and C323.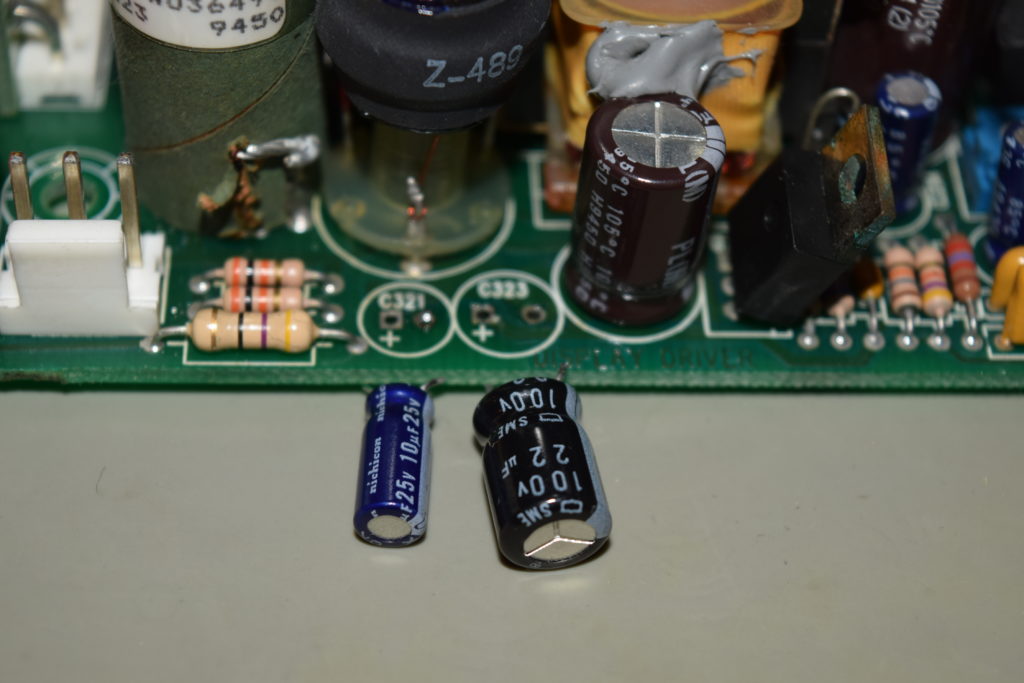 Note that the component layout for this color CRT driver, 678-1402-07 (the board has silkscreen saying 671-2373-389-1344-01) does not match the component locator I have with my TDS 544A schematics. Nonetheless, it's nearby if you look around.
Just to confirm the capacitors I took out are the culprit, I used an LCZ meter as an overkill ESR tester to test them: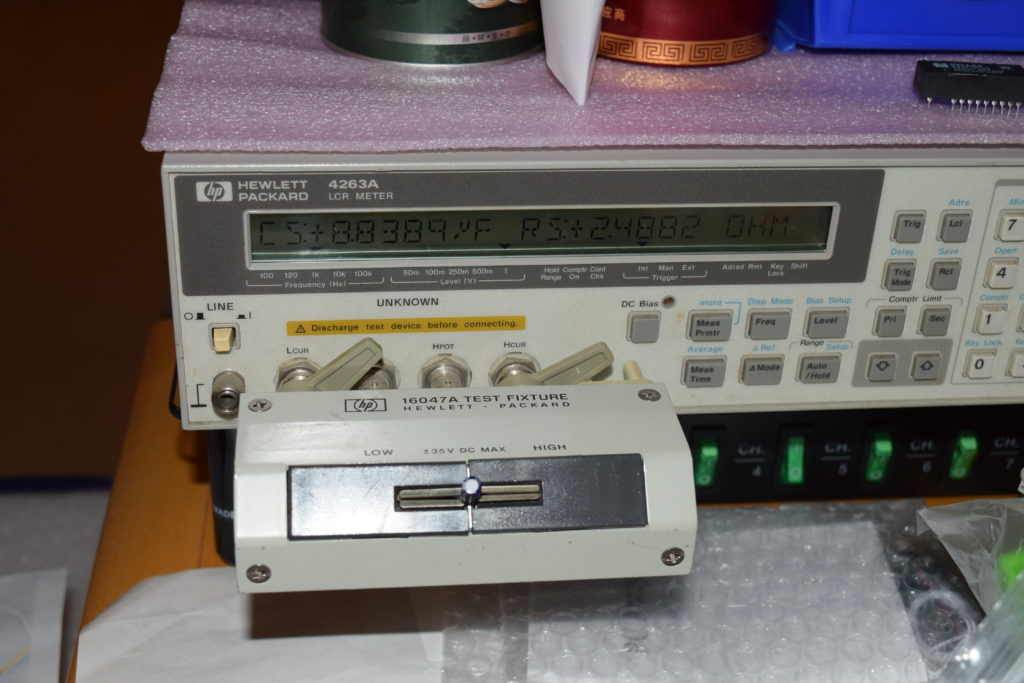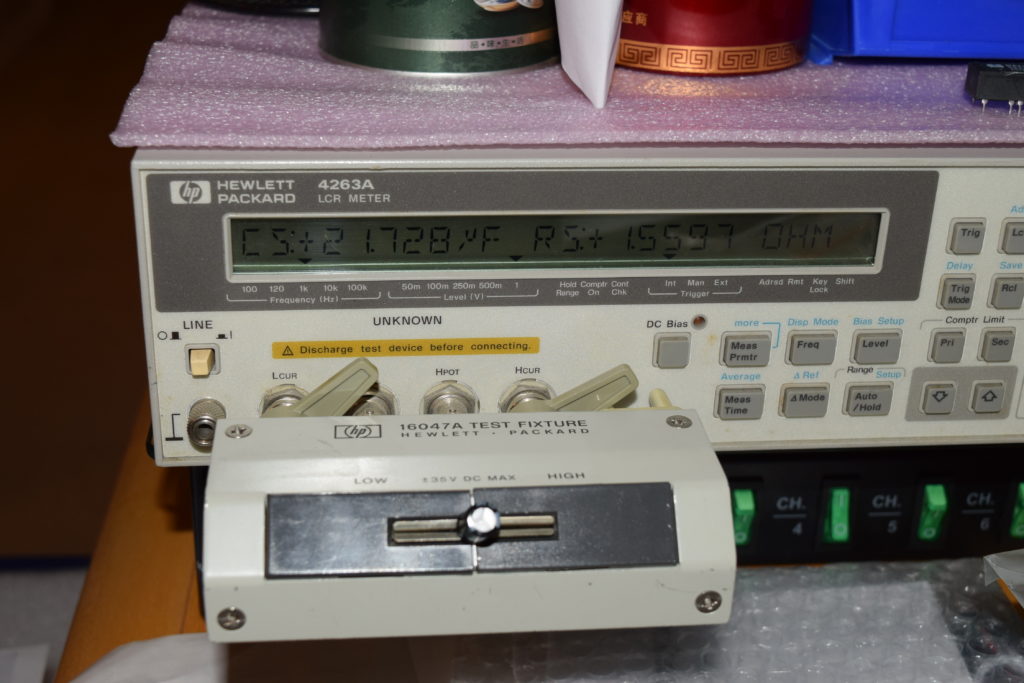 ESR for these two caps should be at the order or milli-Ohms if they were any good. I took the one next to the two offending capacitors out to test it, and the ESR looked OK so I put it back. The true reason is that I don't have that capacitor value on hand at the time of writing, but that also helps to narrow down the true cause.
I replaced these two capacitor and the display worked perfectly. The brightness is a little bit high which can be adjusted down.
EDIT: The screen size starts to twitch and the color changes back and forth after turning on for a few minutes. It's another problem. Another capacitor(s) must have failed. Will update the post after I got the parts and pick it out one by one.
EDIT: I replaced all the electrolytic capacitors on the main CRT driver, noting a few capacitor with higher ESR than usual (I test each removed capacitor with my LCR meter). The twitching went away, but there are random color flashes when I turned it on for a while. I'm suspecting the shutter's clock is out of sync, which I'll first replace the only PNP transistor in the shutter board circuit (waiting for parts to arrive).
9 total views, no views today