There are not many decent Cantonese IME around. The best option for Windows 7 and before are CPIME. It borderline worked for Windows 8/10 (desktop mode only), but I heard recently Windows 10 broke it in its 1903 update.
Dr. Choi kindly wrote another Cantonese IME called CAP, which I came across while looking for Cantonese IME for Linux. This is the only option that works with Windows 10 natively (apps and desktop).
Unfortunately the installer failed on a fresh Windows 10, saying that "CAP.dll" cannot be registered. I looked at the error code and it usually suggest a missing dependency for the DLL. I used Dependency Walker to look at what's broken and noticed those are Visual C++ 2015 DEBUG runtime DLLs. Since debug builds aren't suppose to have a redistributable runtime (it's actually called NonRedist), the only solution is to install the community edition of Visual C++ 2015 to obtain these DLLs.
Note that "Common Tools for Visual C++ 2015" must be included (installed) so the IME won't be broken (grayed):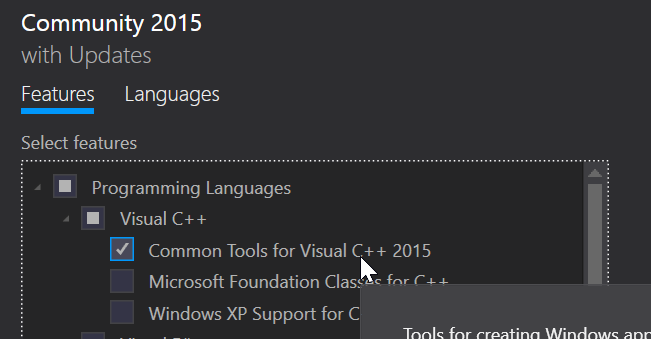 The cause is the missing UCRTBASED.DLL. The files are located at:
C:\Program Files (x86)\Windows Kits\10\bin
It's under the (x86) variant of Program Files regardless of whether it's 32-bit or 64-bit.
The missing link to API-MS-WIN-CORE-PATH-L1-1-0.DLL is not important.
After you installed the IME after installing Visual C++ 2015 (any flavor, minimal is OK), you can remove Visual C++ 2015 without breaking the IME, EXCEPT you need to back up the UCRTBASED.DLL first and put it next to the core CAP.DLL file for the IME:
C:\Program Files\Sixth Happiness\CAP\x64
508 total views, 1 views today