There's no good delivery service in the US. Each one of them just suck in a different way regardless of how much you pay them.
Fedex
Fedex lost my $1700 shipment (oscilloscope) in 2018 by scanning the package they mis-delivered* as delivered, and the people in Memphis didn't give a damn about finding it. Unfortunately, the seller gave me free shipping and he didn't insure the shipment nor require a signature; because the package was scanned as 'delivered', the ball is at my court.
Fedex basically told me to suck up the loss and take the $100 claim (that's the default insurance).
Fedex's fail opened a Pandora box of complex legal liability issues about who's responsible (I believe it's whoever that made the shipping insurance decisions is responsible).
The unit has an upside close to $10k if I get a chance to repair it, so it wasn't just $1700 that was lost! That's why I always get angry when Fedex lose my purchases (either breaking it or losing it) because the purchase price is the max of what I can claim so it can never cover the upside (which is often multiple times of what I've paid)!
Since this incident, I often prefer having eBay sellers ship on my account (or I make the label for them) because it's easier for the recipient to do the claim (as shipping companies takes the one who pays them much more seriously). Also it's kind to the seller because they've fulfilled their duty and it's beyond their control if Fedex breaks it, they might need the money and don't have the capacity to reimburse me first and wait for Fedex to reimburse them.
I used to love Fedex because Fedex Ground was more gentle handling packages. I've witnessed a few times inexperienced sellers screwed up on the packaging so bad that it couldn't have possibly arrive in one piece unless the entire delivery chain was very gentle with the shipment and Fedex Ground saved the day and the instrument arrived without a dent.
This comment do not apply to Fedex Express as they broke my shipment a couple of times. They paid the claims but I wasn't happy because the shipping damages costed more than my purchase price and I cannot find a comparable deal because those were rare finds.
I met a Fedex old-timer at the hub picking up a thrice missed deliver and shared my experience about how well Fedex saved the poorly packed shipments with extra care and UPS shipments often looked like the boxes was chewed by a dog. He loved his job and passionately told me that Ground and Express are like 2 separate entities and Fedex is self-insured: if Fedex break your package, they pay your claims out of their pocket, not through a 3rd party insurer (like UPS) so they feel the pain feedback more directly. I could at least feel that Fedex has people who cares.
I had been a loyal customer to Fedex even if they charged more than UPS. However, this incident change my mind and I switched to UPS (despite they are rough on packages) for good. Having a damaged shipment is better than no shipment. Since then I use Fedex only if my customer provides their Fedex account. If I am the one who makes the decision, I won't use Fedex even if they are cheaper (which they are not).
I emailed their CEO and told them that they cannot just trust their drivers to scan the packages without GPS cross checking the address and take their word for it. By 2021, a few of their drivers still have a habit of scanning the package at the truck or anywhere that's not at my door! Do they know much panic and agony they've created for the customer when the customer sees a 'delivered' email and look outside and see nothing!?
* I knew for 100% sure that it was misdelivered (not lost to porch pirates) because 3 weeks later, without Fedex's involvement, an unrelated apartment leasing office 2 blocks down called me and said they had my package but no phone number (eBay stopped providing it to sellers) so they had to Google stalk me to find my contact info.
UPS
Despite my incoming UPS frequently arrive in beaten up boxes, they have yet to create big losses for me. Having thick and robust padding might mean your package might arrive in one piece, but it doesn't stop whiplash from happening.
I shipped a PC-based oscilloscope to a customer 1 hr away from me and the PCI card got bumped out of the PCI socket on arrival. From my customer's description, I knew right away it's a PCI card that got displaced during shipping so I didn't bother to have them ship it back to me, reseat it on my end, just to have UPS whiplash it again, so I drove to their site and reseat the card.
DHL
DHL entered US domestic market in 2003 and withdrew in 2009. They tried to be the discount delivery to undercut FedUPS in price by not having properly staffed locations and rely on everything filled online and sparsely located drop boxes.
What they didn't realize is that like a buffet restaurant, logistics is an economies of scales game. You can easily get into a death spiral that people don't come because you cut corners, and you are tempted to cut even more until you are eaten alive by fixed costs. With FedUPS already established their network, a new competitor cannot expect to scale up organically. People are not going to live with huge inconveniences to use your clumsy network just to save 5%~10% on shipping.
DHL still has a little presence in the US and their 'sales' (account manager) called the most persistently out of the 3 companies yet the rates they offer for small business is far more pricey than UPS and not even better than my Fedex account. Even for international shipping, which is supposed to be DHL's stronghold, is more expensive than UPS after discounts.
That aside, even in the 2020s, they still work like in the 2000s which they don't have dedicated shops and have a minimum crew and tiny vans picking up packages from drop-boxes and mom-and-pop shops. There's absolutely no good reason to use them as they have no merits in any dimension whatsoever (speed, price, reliability, convenience). Why would I pay more to deal with more inconvenience?!
Today I got a foreign customer with a DHL account for me to ship against, and to my dismay, I found DHL is a total f*cking disgrace! It just felt like they've completely given up and waiting for the management to pull the plug! Here's what I went through to ship a time-sensitive package:
I haven't logged in to make a shipping label for a while and noticed my email/login ID cannot get access to MyDHL+! I remember the last time I used DHL, it wasn't called MyDHL+. That could be the reason.
I can access my DHL billing account, which was separate from MyDHL. So I suspected they did not migrate my login information to MyDHL when they updated the system
I emailed customer service and it took them a day to reply to my email EACH trip. The automatic reply reads "Thank you for contacting DHL Customer Billing Support Department. Our hours of operation are Monday-Friday, 8:00am-5:00pm (CST). We will return your request within 2 to 3 business days". They are working at the French's pace!
Without logging in, I tried creating the e-waybill as a guest and they only take credit cards and there's no option to use my customer's shopping account, which means paying the retail rate at my expense! At least they should have the decency to have guests use recipient's DHL account number and provide the credit card for charge-backs!
This left going to the stores and fill in a waybill manually like a grandma as the only option to use my customer's DHL account. I did it before in the past so I thought it'd work this time.
I went to one of the crummy mailing shops taking packages for UPS and filled in the paper waybill there and was accepted.
Since I'm at the mailing shop close to the cut-off time, I met the driver and he said manual/hand-written waybill is no longer accepted, but he'll make the exception and take the loose paperwork to the office and make a label for me. This worried me as there's no identifying information on the box so I'm gambling on the driver's memory with no recourse or means to recover the package whatsoever if it wasn't done correctly (i.e. broke chain of custody).
2 days later the package showed up at my door with DHL's note in the pouch saying that the package was refused because they no longer accept manual waybill!
WTF! It was an urgent package and they gave me force promises and wasted 2 days and it landed on a Saturday so I'd lose a whole weekend! WTF!?
This is an example of gross incompetence from IT to back-end to front-line workers. DHL in USA is broken, way broken, even for their international delivery services. DHL is now creating harms! I'd be saved had the workers told me to take my business elsewhere. I'd still had a an hour and a half to run to UPS if they had turned me down at the store!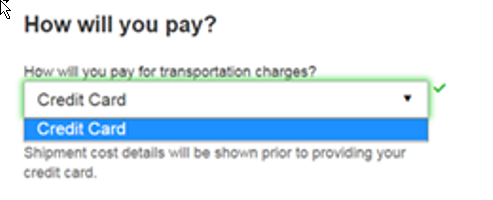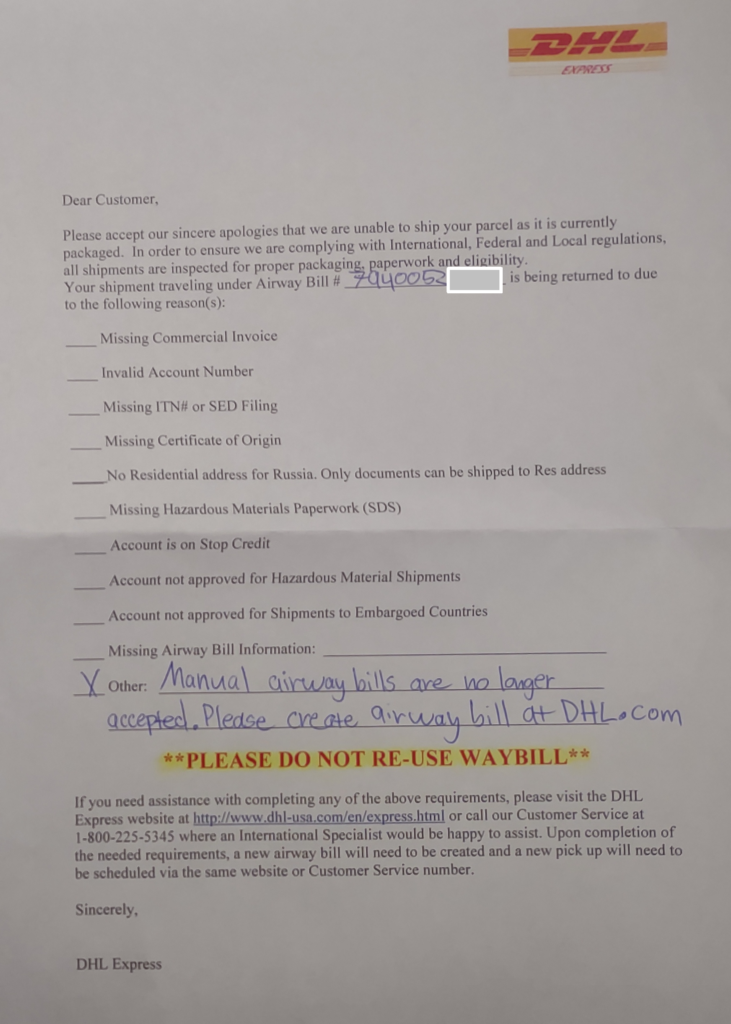 I ended up shipping with my own UPS account right away (using the expensive options to recover the lost time) and bill my customer later since the package is urgent and I don't have time to go back and forth with this loser shipping company!
I've lost so much of my own time and energy fighting with this DHL nonsense, not to mention the stress as DHL was wasting days for an urgent shipment.
DHL has become so non-redeemable that unlike Fedex, I wouldn't email their management to give them feedback because through this incident I can sense that nobody working there cares. The best I can do is to just tell my customers to stay away from DHL.

EDIT: The billing support just replied on Sunday after I replied to them with the DHL account number they asked for, what I got was "For further assistance on this shipment please contact our Customer Service at 1-800-225-5345 or MyDHL.Express.dhl Help and support Tip and Advise.". I think they are not working in US hours despite their emails claimed so (likely Europe time), which would explain that they started the weekend earlier than I expected. More importantly, they are totally wasting my days by asking for details and in return gave me a generic boilerplate response that's totally unhelpful. DHL in the US is hopeless.
35 total views