There has been quite a bit of naming confusion for Keysight's E4980A precision LCR meters. I emailed Keysight and they couldn't give me a straight answers as it seems like there's a change in their naming convention. Here's what I understood from my research and experimentation with these 300kHz units I had:
Currently E4980A refers exclusively to one 2Mhz model. Everything else is called E4980AL-XXX. The first (leftmost) 2 digits of XXX is the max frequency of the unit divided by 100kHz (10X: 1Mhz, 05X: 500kHz, 03X: 300kHz). The lowest (rightmost) digit is the 0 for the older Agilent units that DCR measurement (aka multimeter's resistance at 0Hz) that doesn't come with it, 2 for newer Keysight units which this feature comes standard (mandatory option 200), so the default always look like E4980AL-XX2.
Yet my unit is called E4908A-030, no signs of AL. Nowhere this E4908A is mentioned in the manuals on Keysight's website, but I found the old version that hints the transition that fell through the cracks of history: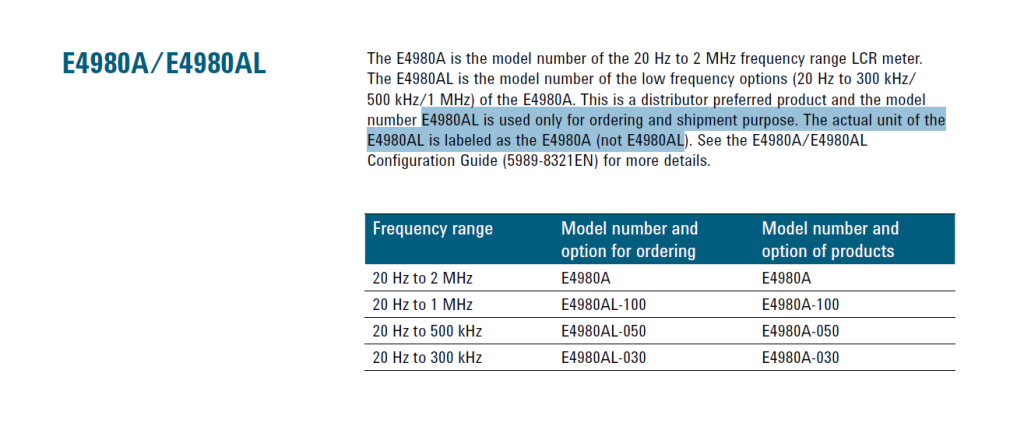 So at some point, Agilent calls everything E4980A at factory level, but they as they were transitioning to rebranding the lower max frequency models to AL series, the AL-series used to be just an alias name for marketing. This was the unit I've got.
Of course later on we saw that Keysight eventually officially put the AL on the physical labels, not just for ordering, and hence the confusion.