For TDS 500~800 series, a batch of CRT driver boards, color and mono, regardless of how heavily they are used, have bad flyback transformers. After turning the unit on continuously for half a day, the screen might stretch and disappear.
If you have a matching CRT driver board with a CRT tube, I recommend instead of swapping the CRT driver (seemed more straightforward), extract the flyback transformer from the donor board instead. The reason is that the adjustments needed from replacing the flyback transformer is far less than re-tuning a different CRT driver board to match the tube.
It's impossible to tune the CRT driver board while it is in the case, since the processor board covers it during operation (unless you have special cables for the Acq/Proc interface to replace the interconnect PCB card), it's done ex-vivo like this: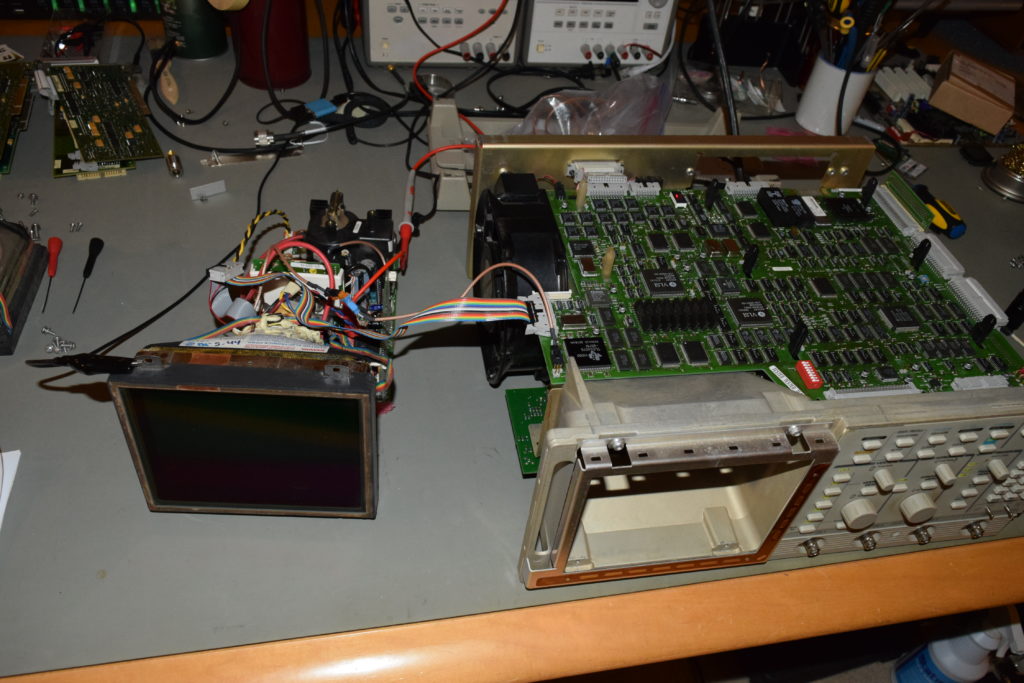 I bought a ribbon cable extender and built a 2-pin jumper extender by salvaging them from CRT driver boards with toasted flyback transformers: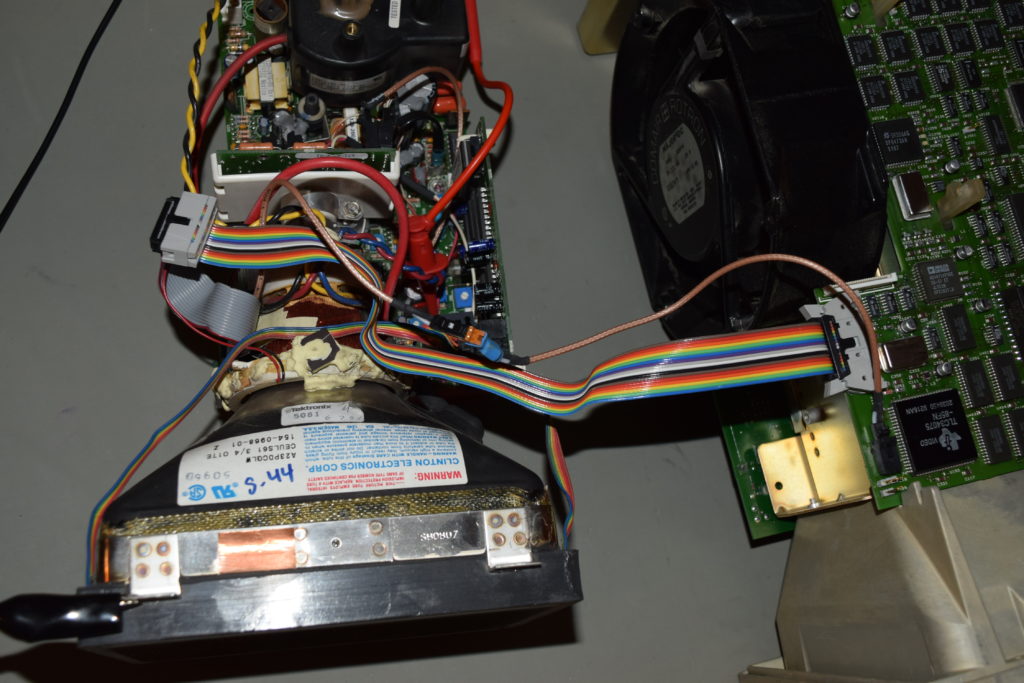 The first thing to check for is the +21V which is used to generate many voltages across the board (pun intended here): it affects brightness, scale, offset and linearity everywhere. If there's any adjustments to be made, this need to be done first.
This voltage can be tapped by hooking the positive (red) lead to the center (output) pin of LM317 (3-pin linear regulator) at U90. If you have an alligator clip instead of a grabber, you can also hook it up to 'pin 4', which is the body of the regulator.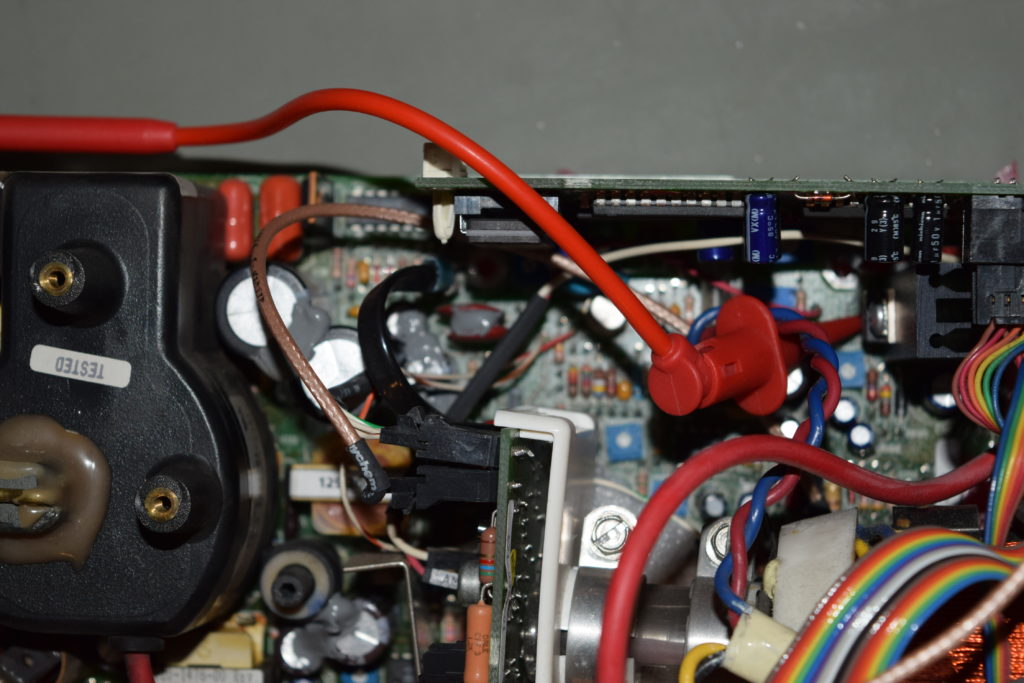 You can pick many spots for the ground pin. Since I'm using a grabber, I'd pick another big 3-pin IC sitting on a heatsink for the ground lead. In this case, it's Q10, the transistor that drives the flyback transformer. It's the pin nearest to the short edge of the board (behind the red lead, sorry):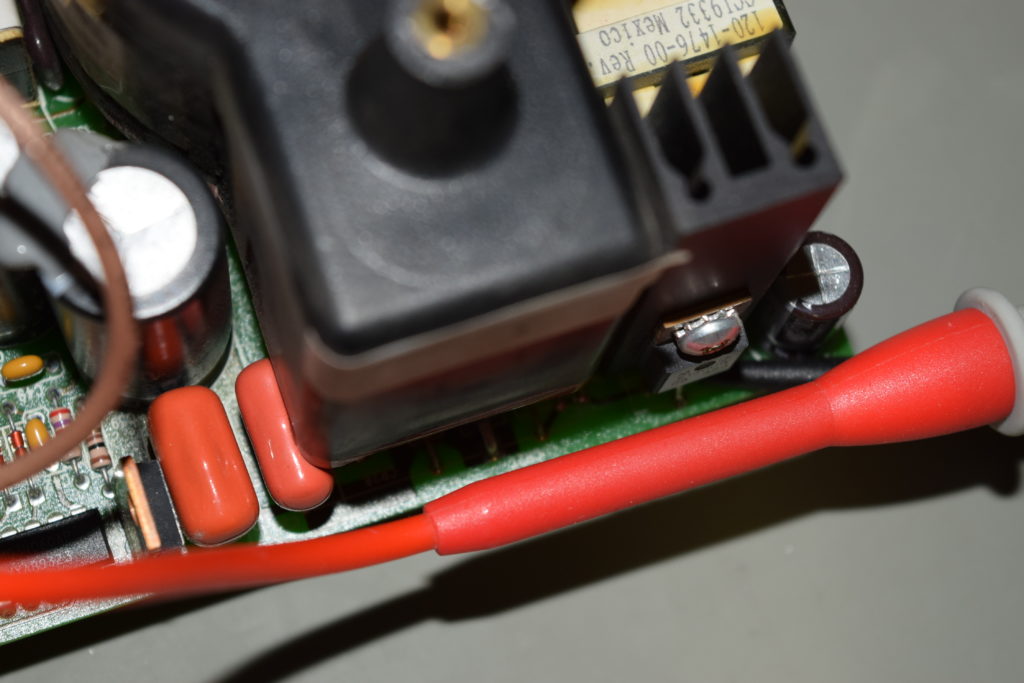 Here's a picture of blank board showing how many trimpots are there: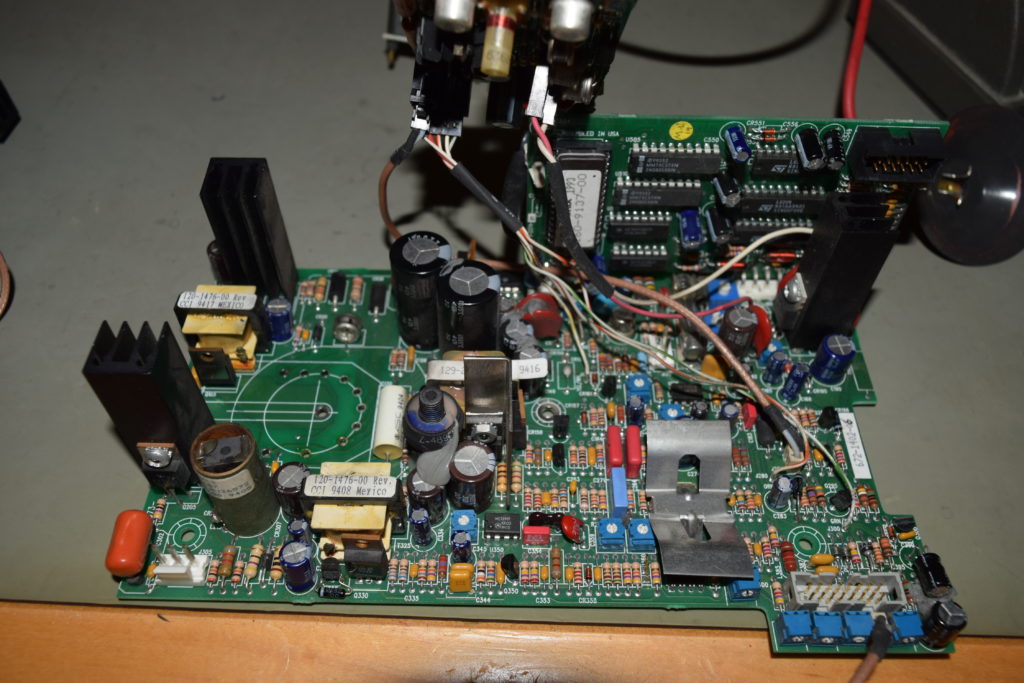 Only the brightness and contrast dials are documented in the service manual. The rest, I had to locate them in the schematic one by one.  Before that, I kind of figured out most of them by trial-and-error but had a few of them wrong, especially the voltages (there are three: +21V, screen and HV adj.): they all have the same effect. There are also some more obscure trims like center focus and horizontal focus (variable inductor). Now I know exactly what each dial does.
It's hell of a lot of work to figure this out. I have some new old stock CRT straight from Tektronix at Beaverton, and it's the reserve to support customers who bought color TDS 500~800 units from me. Almost all used units out there have problems (or going to have problems soon), and so far I'm the only one selling units with 1 year warranty (extendable to 3 years for extra).
If your unit is not under warranty included when you bought from me, and want one of these new color CRT tubes with shutter, I'll almost require you to send your unit to me for installation unless you can guarantee that you can figure it out without my help. It's $500 full-service with the tube included. Call me at 949-682-8145.
1,949 total views, 1 views today